Dwan Packnett, a Walsh supporter, smiles after Mayor Martin J. Walsh's speech during the Team Walsh Election Night Celebration at the Fairmont Copley Square Hotel in Boston on November 7.
Maya Anand, who had a close friend involved in the parkland shooting, speaks at the BU Rally Against Gun Violence held in Marsh Plaza February 26. Speaking without a prepared speech, Anand shared her deeply personal experiences with gun violence to the crowd.
Fireworks explode behind the Edgartown Light House in Edgartown, Massachusetts.
A man bows his head in prayer at the Lights for Liberty vigil in Edgartown, Massachusetts. Lights for Liberty vigils were held all across the country on July 12, 2019, to protest the detention camps at the southern border.
Anna Weis, a member of the Boston University Women's Rowing Team, rows hard during a 1000 meter practice sprint April 4.
Willow Rosbeck, 5, turns with excitement as her dad unhooks fish she caught aboard the Skipper. Students from the Rainbow Place preschool in Edgartown, MA were treated to a free fishing trip to celebrate their graduation, curtesy of Skipper captain John Potter.
Firefighters put out the last embers of a brush fire in the Back Bay Fens March 28, 2019. Although officials were not sure what exactly started the blaze, the dryness of the park's plant life was a contributing factor. Fires such as these are relatively common: "this kind of thing happens almost every year," said a police man on the scene.
Alex Moreno (left) and Ravi Parent, members of the Boston University Sailing Team, participate in the team's spring break training held last week in Miami, Fla. This year's week-long training session on Biscayne Bay saw a multitude of conditions, from light winds to gale-force breeze.
Kayla Edgar, a Special Olympics athlete with the Pioneer Valley Aquatics Program, high-fives Boston police officers during the Parade of Athletes, a part of the 2018 Summer Games opening ceremony held on Boston University's Nickerson Field. This year marks the 50th anniversary of Special Olympics competition in the U.S.
A counter protester is arrested for disorderly conduct during the "Rally for The Republic" event hosted by conservative groups Resist Marxism and Boston Free Speech November 18. The rally was held on Boston Common despite a lack of permit from the city.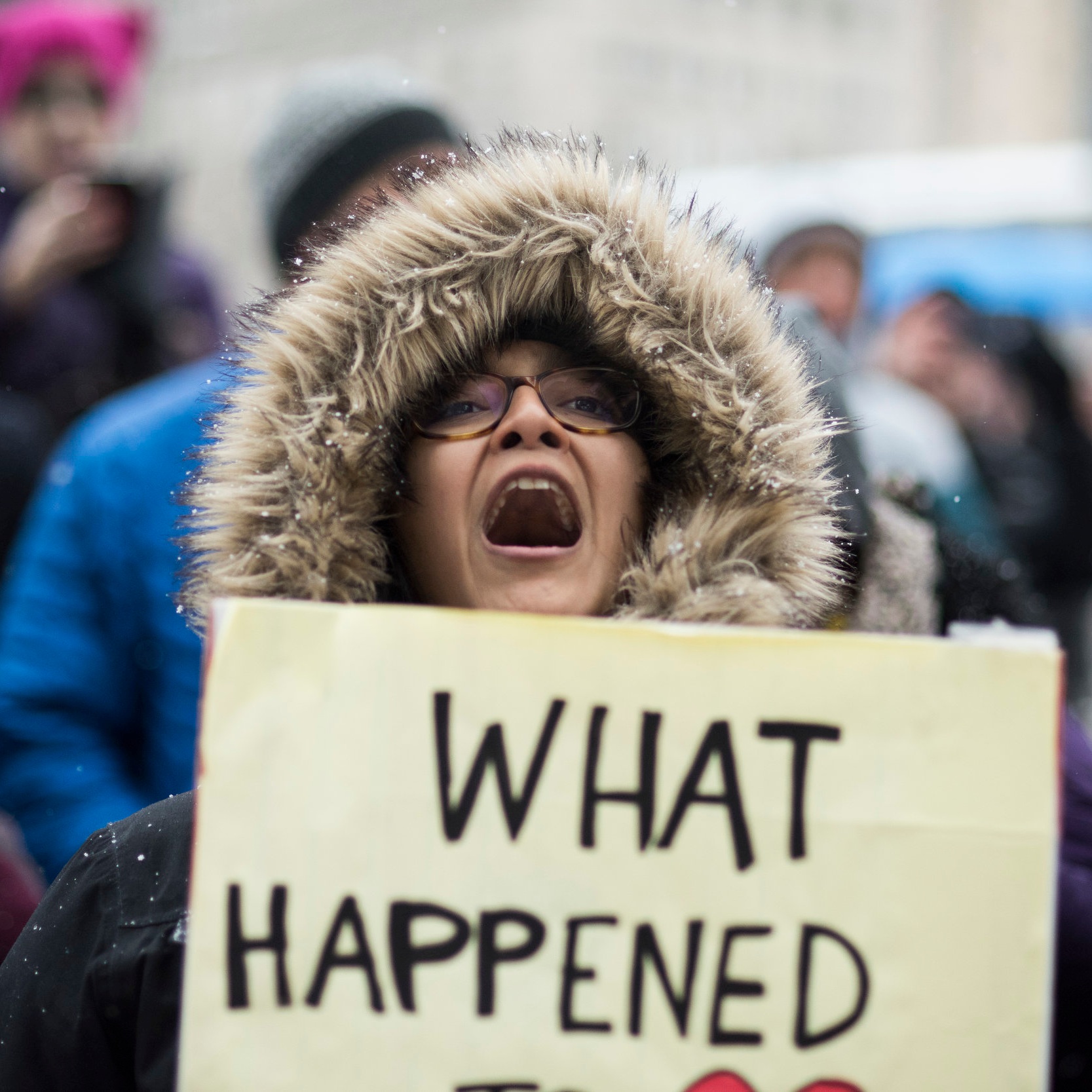 Carolina Velaquez, a junior at Boston College, chants along with speakers at the No Wall: Reject National Emergency rally in front of City Hall Monday. Organized by Cosecha Massachusetts, the rally was part of a national protest against President Trump's declaration of a national emergency in order to secure funding for a border wall.
Tight end for the New England Patriots Rob Gronkowski waves to parade-goers from a duck boat during the Patriot's Victory Parade through Boston. The Patriots celebrated their sixth Super Bowl win against the Rams February 5.
Katie Gavin, lead singer of the self-described "dark pop girl band" MUNA, dances during their opening set for Grouplove at House of Blues Boston in Fenway November 3.
University of Connecticut player Leah Lum (7) attempts to swat the puck away from Boston University player Connor Galway (26) during the Women's hockey game held at Walter Brown Arena on Sunday. In the first win of the season, BU beat UConn 6-2.
Mourners gathered together in Marsh Plaza for a vigil honoring the victims of the mass shooting at the Tree of Life synagogue in Pittsburgh, PA.11 people were killed on Saturday in the largest attack on Jews in United States history.
Congresswoman-elect for New York's 14th district, Alexandria Ocasio-Cortez asks Malala Yousafzai a question during her forum talk at the Harvard Kennedy School on Thursday.
Sachi Mehrota and Tiffany Tong, both freshmen at Boston University, lay in the snow in BU's west campus during New England's third nor'easter in three weeks. The storm brought blizzard-like conditions and the cancellation of classes at BU, other local colleges, and Boston Public Schools.
Nevin Sayre gives a peace sign in the middle of a kiteboarding jump.
VTA bus drivers and supporters stand on the picket line during the VTA strike at the Steam Ship Authority port in Vineyard Haven, Massachusetts.
Eleanor Hammond, 7, stands with her families horses at the Martha's Vineyard Agricultural Fair.
Commonwealth Avenue, usually bustling with Boston University students, becomes a snowy wonderland during New England's third nor'easter in two weeks on February 28. The storm brought blizzard-like conditions and the cancellation of classes at Boston-area colleges and public schools.
Scott Hoying, of the vocal group Pentatonix, performs at TD Garden during their concert November 9th.